Body Beast Bulk Shoulders Review
How Do I Get Ripped?
Body Beast! Awesome. Body Beast Bulk Shoulders done. This is a great workout. 35 minutes with warm-up and cool-down included. Bulk Shoulders requires resistance, and dumbbells or EZ Curl bar or barbell works best. You can do the entire work…out with just dumbbells. A bench is required, although there is one person using the stability ball as a bench. Again, not recommended from my perspective. Like the Chest / Tris workout Bulk Shoulders leverages super sets, drop sets and progressive sets. Several variations of lateral raise are incorporated along with Arnold Press and upright rows. The workout ends with some plank and ab work. This is a great workout and I was soaked in sweat by the end. That is a good sign. Now that I know what weights to use I think I will be ready to push even harder next week when I do this workout. The plan is to start up a 2-wk schedule of the Body Beast workouts on Monday and then start a more formal round with the supplements, etc. on July 30th. The reason for the delay is due to travel schedule. Anyway, after 3 workouts of Body Beast I am confident that I will really enjoy this program and get some great results. The program is very professional, the music is heavy metal inspiration and awesome and Sagi Kalev has a good sense of humor at times (today he said something like, "Do you have enough weight? Too much? Need a hug?" Haha. Good stuff. When I start the round July 30th I will be targeting 3000+ calories with the supplement plan included. If anyone is interested in joining our Body Beast Challenge Group "RAGE vs. BEAST" let me know!! P90X Recovery Formula down. Shakeology accountability – One Scoop Chocolate Shakeology mixed in iced water. Let's do this TEAM RAGE! Rage. Become a Machine.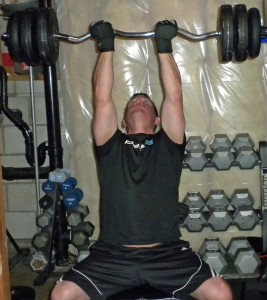 The following two tabs change content below.
Premiere 5 Star Diamond Independent Beachbody Coach, CEO and Founder of TEAM RAGE, Mike Nowak Fitness, HowDoIGetRipped.com and How Do I Get Ripped, LLC. You are about to learn how I went from out-of-shape busy dad with significant travel, 2 kids and a wife to losing 20 pounds, 16% body fat and 7" off my waist while getting paid more income from home than my Ph.D. in Science & Engineering. Retired my Ph.D. career to focus on FAMILY & FITNESS!
Latest posts by Mike Nowak (see all)
Comments