Body Beast Bulk Arms Review
How Do I Get Ripped?
TEAM RAGE!!! Body Beast Bulk ARMS done. Another outstanding workout my friends. I am a big fan of Body Beast and look forward to seeing results after 90 days. Bulk arms was focused on biceps and triceps progressive sets, single sets and force sets. The arms were worked from every angle. My favorite move was the force sets –  5 sets x 5 reps with the EZ Curl bar… the insane part though is that you do not put the bar down between sets and negatives are leveraged. Also, for progressive series there is little to no rest between sets so you get pumped. I mostly matched the weights of the Team in the video so I was pleased. Similar to the other Body Beast workouts I now have a good sense of the weight progression to use to challenge me so I will be able to push even harder next time. The workout ended with weighted ab crunches – 30 reps using a dumbbell behind your head either on a flat bench or stability ball. Good stuff. P90X Recovery Formula down. Shakeology accountability from my morning snack –  Chocolate Banana Nutter – 1 scoop Chocolate Shakeology – 1 Tbsp. natural peanut butter, 1 banana, 1 cup water and ice to taste. Time for a shower and then spend time with the family. Everyone keep up the good work with the workouts and nutrition. Rage. Become a Machine.
Also, here was my project earlier today for Body Beast… pimped my EZ Curl Bar / Olympic-type bar and 200-lbs weights I got from Craigslist for $35 plus $3 flat black spray paint (sanded any rust on bar before painting). This will supplement my dumbbell set… Beast Up!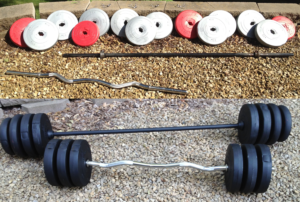 The following two tabs change content below.
Premiere 5 Star Diamond Independent Beachbody Coach, CEO and Founder of TEAM RAGE, Mike Nowak Fitness, HowDoIGetRipped.com and How Do I Get Ripped, LLC. You are about to learn how I went from out-of-shape busy dad with significant travel, 2 kids and a wife to losing 20 pounds, 16% body fat and 7" off my waist while getting paid more income from home than my Ph.D. in Science & Engineering. Retired my Ph.D. career to focus on FAMILY & FITNESS!
Latest posts by Mike Nowak (see all)
Comments