Body Beast Build Legs Review
How Do I Get Ripped?
Body Beast BUILD:Legs this morning. Great workout, approx. 40 minutes total including some in and out abs at the end. Movements included single sets, super sets and several series of giant sets. That is, dynamic set training. Specific exercises involved squats (I like the sumo squats), lunges, step-up lunge combination, deadlift and calf raises. This was my first try with this workout and finding the proper weights was a bit of an experiment but I was able to get dialed in okay. I think I will be sore tomorrow. Ha. I was hoping for some more deadlift variations but I see that they are coming in future workouts. P90X Recovery Formula down. Shakeology accountability – Chocolate Banana Nutter – 1 scoop Chocolate Shakeology, 1 Tbsp. natural peanut butter, 1 banana, 1 cup water and ice to taste. My favorite Shakeology recipe! Okay, time for shower and early meeting at work. Everyone keep up the good work with the workouts and nutrition!! As always, please let me know how I can help. Rage. Become a Machine.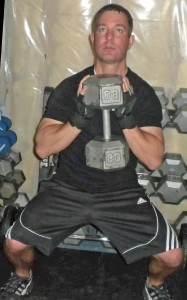 The following two tabs change content below.
Premiere 5 Star Diamond Independent Beachbody Coach, CEO and Founder of TEAM RAGE, Mike Nowak Fitness, HowDoIGetRipped.com and How Do I Get Ripped, LLC. You are about to learn how I went from out-of-shape busy dad with significant travel, 2 kids and a wife to losing 20 pounds, 16% body fat and 7" off my waist while getting paid more income from home than my Ph.D. in Science & Engineering. Retired my Ph.D. career to focus on FAMILY & FITNESS!
Latest posts by Mike Nowak (see all)
Comments