Body Beast: BUILD Chest/Tris Review
Body Beast: BUILD Chest/Tris Review
Quick check-in, been busy trying to get caught up since I returned from Las Vegas last night…
So, I couldn't wait, I decided to try the first workout for Body Beast which included chest, triceps and abs – Block 1 BUILD: Chest/Tris. Wow. I am going to love this program, I think. It was approx 45-minute workout and consisted of supersets and dropsets for chest and triceps. The quality of the production looks great and I like the on-screen tracker that shows up after each complex. All moves in this workout leveraged dumbbells and a bench (incline needed). There was someone in the video using a stability ball but honestly I believe a bench is a much better, safer approach. The warmup was very short and involved stretching and a range of pushups. Chest exercises included bench supersets/drop set for flat press, closed grip, fly in addition to incline press and fly. Typically there are 3 sets with progression in reps from 15 to 12 to 10 or lower. I did fairly well with the dumbbell weights compared to the dudes in the video but I will need to develop endurance since I had been doing low rep focus the past few weeks. Triceps involved a range of skullcrusher and extension type discipline. Decline pushups and diamond pushups also showed up in the supersets. Finally, the abs work at the end was basically one minute or so of sitting on the bench and bringing your knees to your chest and then back out. Cool down was also very short. Overall I really enjoyed this first workout for Body Beast and I am excited to see the balance of the schedule. I will try perhaps one additional workout this week before formally starting a schedule on Monday. WHATEVER IT TAKES!! Shakeology accountability – Chocolate Banana Nutter – 1 Tbsp. natural peanut butter, 1 banana, 1 cup water and ice to taste. Click the banner below to try BODY BEAST now!!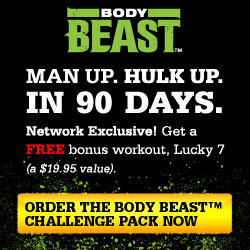 The following two tabs change content below.
Premiere 5 Star Diamond Independent Beachbody Coach, CEO and Founder of TEAM RAGE, Mike Nowak Fitness, HowDoIGetRipped.com and How Do I Get Ripped, LLC. You are about to learn how I went from out-of-shape busy dad with significant travel, 2 kids and a wife to losing 20 pounds, 16% body fat and 7" off my waist while getting paid more income from home than my Ph.D. in Science & Engineering. Retired my Ph.D. career to focus on FAMILY & FITNESS!
Latest posts by Mike Nowak (see all)
Comments