Body Beast BUILD Back/Bis Review
How Do I Get Ripped?
Body Beast BUILD:Back/Bis done. Wow. Done. I can't remember the last time I sweat that much during a workout. That was brilliant. This dynamic set training discipline is a rocker. There is limited rest between sets and each complex series and my heart rate was elevated throughout. That is a good sign. The workout was approx. 45 minutes and included single sets, giant sets and super sets. Movements involved deadlifts, dumbbell pullover, EZ bar row, one-arm row, pullups, closed grip chin-ups, seated bicep curl, hammer curls, neutral EZ bar curls and cobra. Great workout. I broke out the 20-lb weighted vest for pullups and was able to do all 3 sets of 10 reps. The 1,1,2 hammer curls are just insane. The workout ended with cobra which reminds me of some of the swimmer and pulse sequence moves in Insanity Asylum Back to Core. BUILD:Back/Bis is easily one of my favorite workouts of all Beachbody workouts. P90X Recovery Formula down. Shakeology accountability – 1 scoop Chocolate Shakeology mixed in iced water. Love it. Everyone keep up the good work with the workouts and nutrition. Rage. Become a Machine. Enjoy the 4th!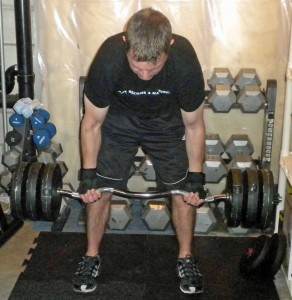 The following two tabs change content below.
Premiere 5 Star Diamond Independent Beachbody Coach, CEO and Founder of TEAM RAGE, Mike Nowak Fitness, HowDoIGetRipped.com and How Do I Get Ripped, LLC. You are about to learn how I went from out-of-shape busy dad with significant travel, 2 kids and a wife to losing 20 pounds, 16% body fat and 7" off my waist while getting paid more income from home than my Ph.D. in Science & Engineering. Retired my Ph.D. career to focus on FAMILY & FITNESS!
Latest posts by Mike Nowak (see all)
Comments