Body Beast Beast:Total Body Review
How Do I Get Ripped?
TEAM RAGE!! Body Beast Beast:Total Body done! That was my first try with Total Body and it was a great alternative to Beast Cardio, which is also a total body focused workout. The workout was about 40 minutes in length and consisted of 4 series of circuits of two sets each at 15 reps. The circuits were 4 moves with the last being abs discipline. The circuits included, 1) Pullup, pushup, squat, crunch; 2) Incline press, bent-over row, reverse alternating lunge, plank twist-twist; 3) 1,1,2 military press, post delt raise, stiff leg deadlift, Russian twist with dumbbell; 4) bicep curl-up-hammer down, tricep extension-kickback, calf raise-weight at shoulder, side forearm plank. Wow, that was really intense for the short period of time. I particularly enjoyed the 1,1,2 military press and bicep curl-up-hammer down moves. P90X Recovery Formula down. Morning Shakeology accountability – Tropical Breeze – 1 scoop Tropical Strawberry Shakeology, 1 cup coconut milk, ½ cup strawberries, 1 orange, peeled and divided in segments, ½ banana and ice to taste. Good stuff. Rage. Become a Machine.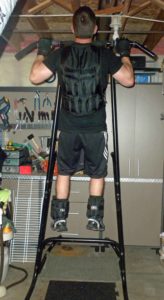 The following two tabs change content below.
Premiere 5 Star Diamond Independent Beachbody Coach, CEO and Founder of TEAM RAGE, Mike Nowak Fitness, HowDoIGetRipped.com and How Do I Get Ripped, LLC. You are about to learn how I went from out-of-shape busy dad with significant travel, 2 kids and a wife to losing 20 pounds, 16% body fat and 7" off my waist while getting paid more income from home than my Ph.D. in Science & Engineering. Retired my Ph.D. career to focus on FAMILY & FITNESS!
Latest posts by Mike Nowak (see all)
Comments