Beachbody Challenge!
Should you take the Beachbody Challenge? ABSOLUTELY YES! You have nothing to lose (except some body fat), and EVERYTHING to gain!  It's completely free to "take the Beachbody Challenge".  The best part?   You are in the running for lots of cool prizes including…
$500 daily winners
$1000 monthly winners
$5000 quarterly winners (plus a paid trip)
$100,000 grand prize
That's not exactly chump change!  And like I said, it's free to enter and it will light your fire to push harder than you ever would have before!
There are also some great product bundle deals for those of you looking to start a program or wanting to buy an additional or different program.  You can save significant money with the Beachbody Challenge Packs (see below for details on the packs).
Why just buy a workout program and do it alone?  Why not set a goal and go for the prize??  That will keep you motivated and pushing play every day!
When signing up for the Beachbody Challenge, you have 2 options. If you already have the workout program and supplements you need, just do the free signup and you are set!  If you still need to get a workout program, or you are interested in trying Shakeology, the #1 supplement Beachbody sells, then you have a way to get both at a much reduced rate.  This is possible through the "Beachbody Challenge Packs".
The Beachbody Challenge Pack bundles come in 3 options, a $160 pack, a $180 pack, and a $205 pack, depending on which workout program you want. Here are some of the options!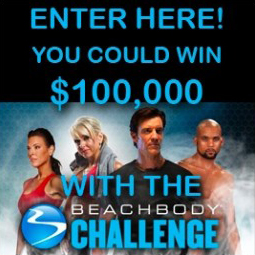 All 3 packs come with:
1) The workout program
2) One month of Shakeology on Home Direct
3) 30 Days of the TeamBeachbody Club VIP membership
4) Free Shipping
5) Free Coach signup! (only if you sign up as a coach, then select the challenge pack as part of your coach signup process)
So as you can see, with these Challenge Packs, there are some big savings if you are looking to get a new workout program, try Shakeology, or become a coach.
And if you already have your workout program, you can still enter the Beachbody Challenge without buying anything.  You don't have to buy a Challenge Pack to enter the Beachbody Challenge.  It's just an added incentive if you are looking for a bundled package discount.
CHALLENGE PACK OPTIONS – CLICK ON LINKS BELOW!!
$305
$220
$245
$205
$180
$160
So for those interested in taking the Beachbody Challenge (which should be all of us because who wouldn't want to be in the running for free prizes??), click here to TAKE THE BEACHBODY CHALLENGE.
The following two tabs change content below.
Premiere 5 Star Diamond Independent Beachbody Coach, CEO and Founder of TEAM RAGE, Mike Nowak Fitness, HowDoIGetRipped.com and How Do I Get Ripped, LLC. You are about to learn how I went from out-of-shape busy dad with significant travel, 2 kids and a wife to losing 20 pounds, 16% body fat and 7" off my waist while getting paid more income from home than my Ph.D. in Science & Engineering. Retired my Ph.D. career to focus on FAMILY & FITNESS!
Latest posts by Mike Nowak (see all)
Comments