Be Here Now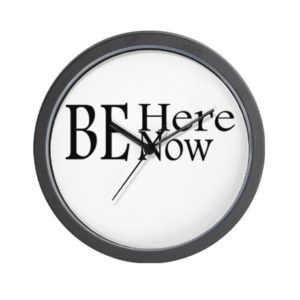 Some common facts of life… We are busy. Priorities change on a daily basis. There is not enough time in the day to do all of the things that we would like.
As a consequence, we sometimes (often) try to take on too much and must rely on a multi-tasking strategy to accomplish our goals. Sound familiar? I can certainly relate…
The result?
From my experience, this type of lifestyle can be frustrating with all of the demands (often self-imposed) that may ultimately lead to running yourself into the ground. This is not good. This may include compromising sleep, exercise, proper nutrition and perhaps worst of all the quality of relationships. Simply stated, if you try to do too many things at once you will likely impact performance of any one thing that you try to do. Multi-tasking incurs "switching costs" including reduction in focus and productivity. Your general lifestyle will likely suffer and you risk focusing on the things that truly do not matter at the end of the day. When we have too much on our plate, we typically respond to the stress and pressures of life by getting a bigger plate. This is not the answer.
The answer?
Be here now. Yes, a very simple statement that is quite complex to execute. I know that I have been guilty. Prioritize and allow yourself to focus on what you are really trying to accomplish. What really matters. You may find that you are spending a lot of time on activities that are not necessary (e.g., Facebook or Twitter!). Prioritize your list and develop strong time management behaviors that allow you to be successful in your goals yet still enjoy life with friends and family. Do not take for granted these years. Enjoy quality time with your loved ones without checking your phone every 5 minutes for emails or text messages. Easy to say, hard to do. But, I am confident that if you decide and commit to doing a few things right you will be more successful than doing a lot of things with substandard performance. Your attitude and relationships will improve. Try it. Be here now.
The following two tabs change content below.
Premiere 5 Star Diamond Independent Beachbody Coach, CEO and Founder of TEAM RAGE, Mike Nowak Fitness, HowDoIGetRipped.com and How Do I Get Ripped, LLC. You are about to learn how I went from out-of-shape busy dad with significant travel, 2 kids and a wife to losing 20 pounds, 16% body fat and 7" off my waist while getting paid more income from home than my Ph.D. in Science & Engineering. Retired my Ph.D. career to focus on FAMILY & FITNESS!
Latest posts by Mike Nowak (see all)
Comments