3-Day Refresh Review
My wife Julia and I just finished our 3-Day Refresh Review for the all new system launched at the Coach Summit in Las Vegas. Wow, we had some amazing results! We were skeptical, but followed the system to a "T' and were able to break some long-standing plateaus in our own transformations, losing 3 – 5 pounds each and inches off our waist in only 3 days. All in a healthy and safe manner. No high protein or starvation diet. Awesome.
If you're looking for a way to lose weight, feel lighter and more energized, and jump-start a new healthy-eating lifestyle, then the 3-Day Refresh is also for you to try. This 3-day program of specially formulated shakes, easy-to-prepare clean meals, and healthy snacks has been scientifically designed to help you break the cycle of bad eating habits, lose weight, detoxify your body, and dramatically improve the way you feel – without starving.

I picked up several 3-Day Refresh kits while at the Coach Summit during the 3-Day Refresh Launch along with the new PiYo fitness program by Chalene Johnson. We were excited to try the 3-Day Refresh combined with PiYo and P90X3 workouts. We really didn't have the ideal time to focus on this for 3 days in a row. So, we just did it anyway! I am glad we did as it was a simple system to follow that can be done even with a busy schedule or travel.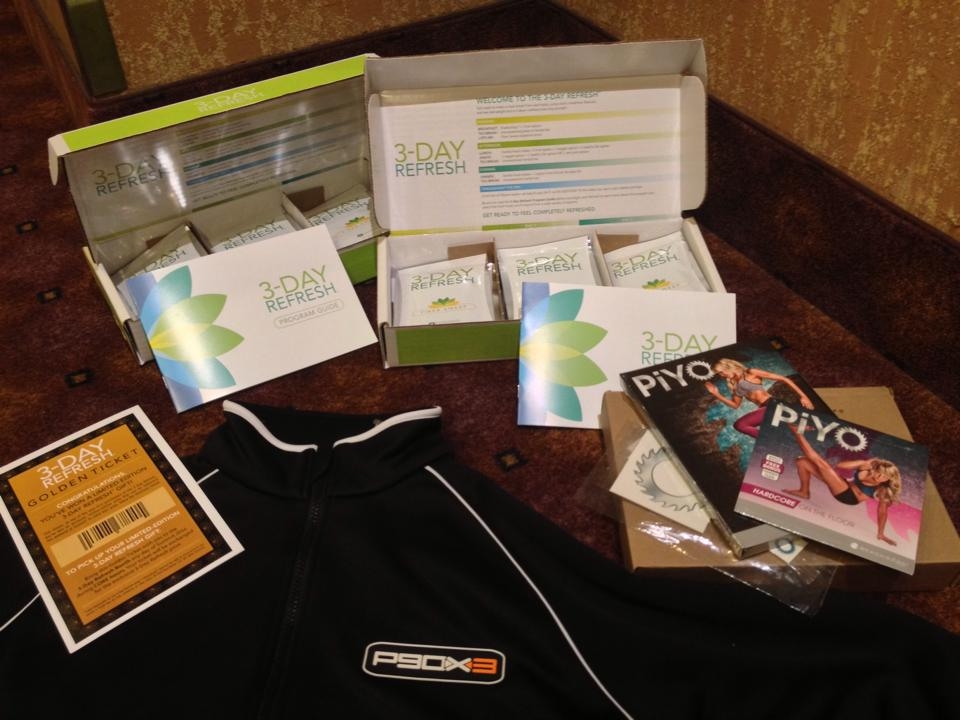 3-Day Refresh Review –  The Program:
The 3-Day Refresh system includes several components…
SHAKEOLOGY for breakfast – Packed with potent superfoods, Shakeology starts each day of your Refresh with Your Daily Dose of Dense Nutrition® to help improve and support all your body's vital functions, while also helping to maximize energy and maintain healthy blood sugar levels (available in your choice of 6 flavors, including vegan options—recommended).
VANILLA FRESH shakes for lunch and dinner – This patent-pending, delicious, and protein-rich formula helps curb your hunger with more than 20 grams of wholesome plant-based protein, 22 essential vitamins and minerals, probiotics for digestive health, and a patented potato protein extract clinically tested to satisfy your appetite.
FIBER SWEEP drink – Gently and naturally eliminates waste from your digestive system with its patent-pending blend of whole ground flax, chia, and psyllium seed husks. As part of a healthy diet low in saturated fat and cholesterol, Fiber Sweep can help lower cholesterol, support healthy blood sugar levels, and may even reduce the risk of coronary heart disease.
PROGRAM GUIDE – This comprehensive guide walks you through how this program works, what to expect, and how to prepare your shopping list, as well as your body, for the 3-Day Refresh. It also contains a menu planner with numerous easy-to-make, nutritious, and delicious meals, a list of fruit and veggie options, guilt-free flavorings, and recipes for fresh-pressed juices.
3-Day Refresh Review – Accountability
So, as mentioned, we decided to jump in and "just do it". We were skeptical with the 3-Day Refresh, but wanted to see if the system could help us achieve our goals. For me, my goal was to break a plateau that I have had in my physical transformation, specifically looking to lose a few more pounds to lean out with more definition. I have been training hard the past few months for mud races this summer using a combination of P90X3, Insanity Asylum, Body Beast and interval runs. However, even with all that activity each week I was unable to lose weight. Julia has a similar story. Below is a more detailed look at our accountability each of the 3 days on the 3-Day Refresh!
Day 1: 3-Day Refresh Review
Workouts:
Mike – PiYo Strength Intervals
Julia – P90X3 Incinerator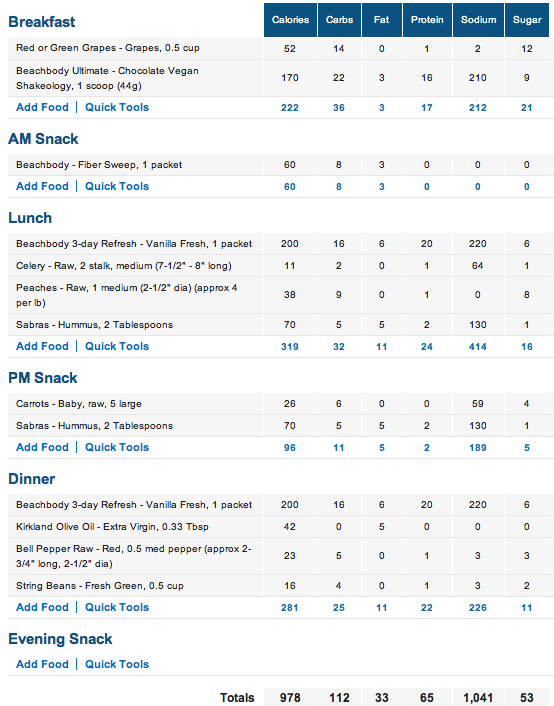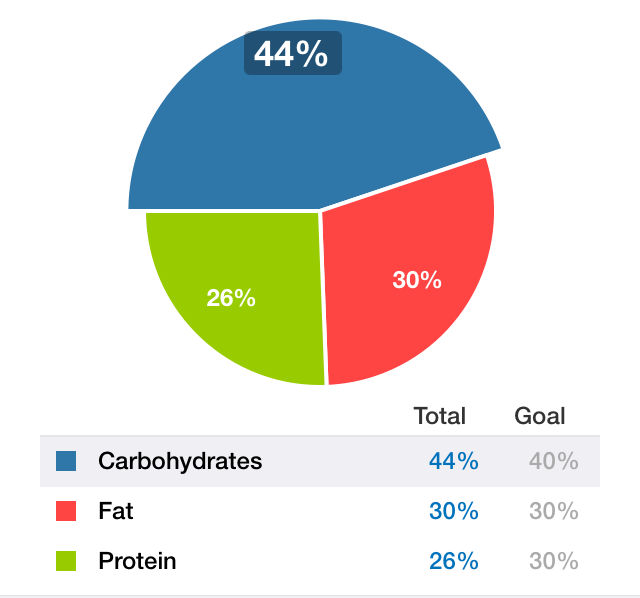 Day 2: 3-Day Refresh Review
Workouts:
Mike – Body Beast BULK:Chest
Julia – Rest Day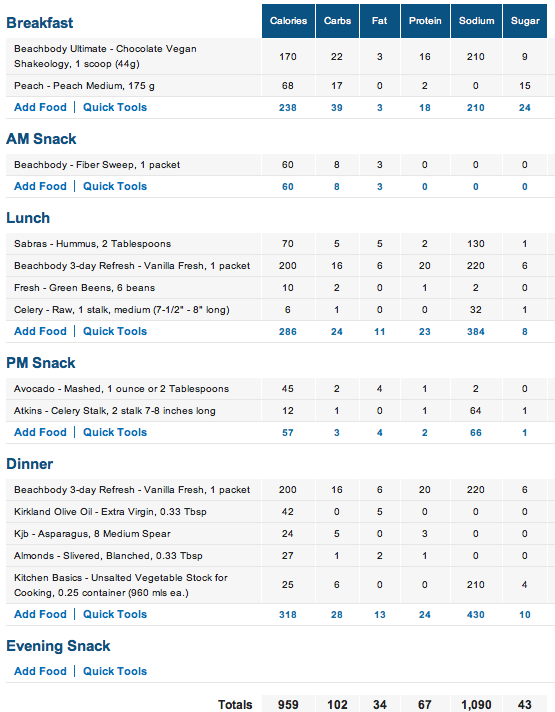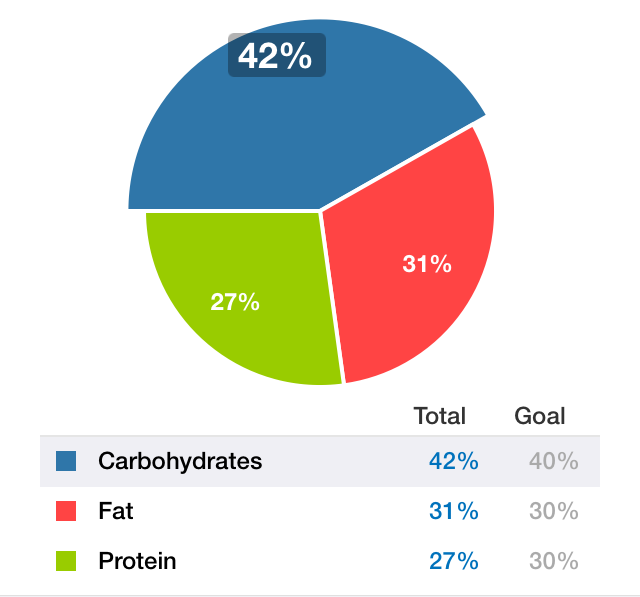 Day 3: 3-Day Refresh Review
Workouts:
Mike – Body Beast BULK:Shoulders
Julia – P90X3 Isometrics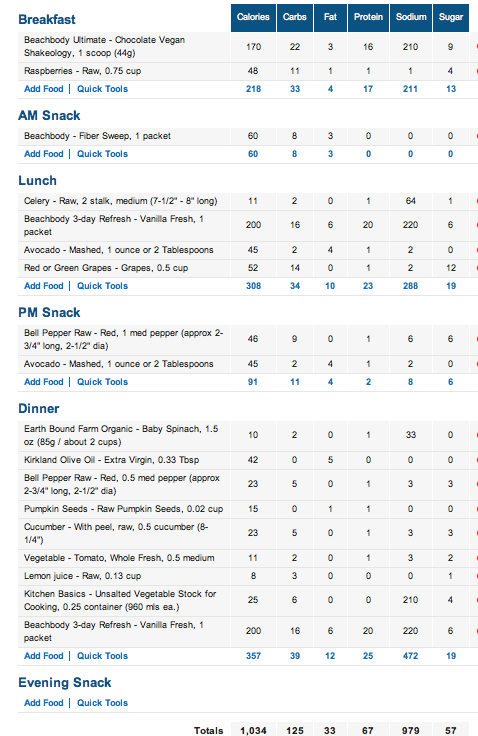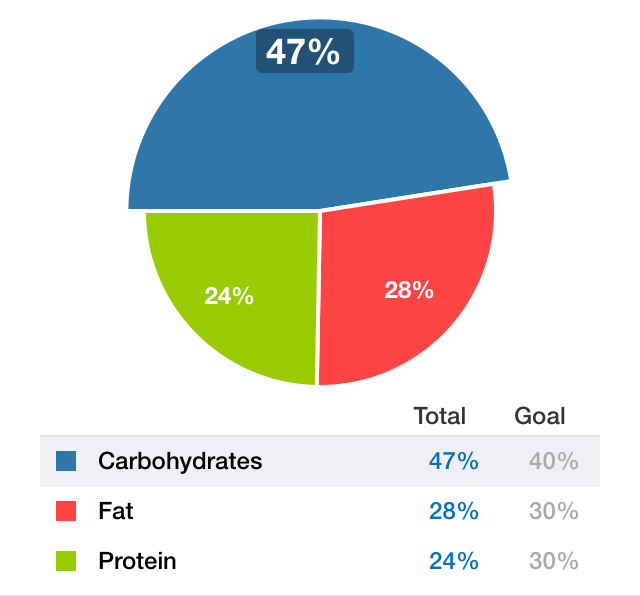 3-Day Refresh Review – Results
What a ride. The nutrition data above indicates that average calories per day was in the 1,000 calorie range for us during the 3 days. Yes, we both followed the same schedule since the 3-Day Refresh guide does not discriminate based on age, sex, height, weight, country, hair color, activity level, etc. 1,000 calories is MUCH lower than I am used to in my daily nutrition, and, to be honest, I was a little nervous. Usually I consume 2800-3000 calories per day and Julia approx. 1800 calories per day. Note the low sodium levels in this plan, which is another bonus. I was certainly concerned about our ability to continue our current workout schedules with the low calories. Also, check out the ratios of macronutrients carbs, fat and protein… this is a 40% + carbs plan that drives results with weight loss. This is accomplished through healthy food choices shakes. Typically, most people assume a protein-rich or starvation diet is the only way to achieve these types of results this fast. Not the case with the 3-Day Refresh based on our experience!
With that said, the program was amazing. Although I had a moment on the afternoon of Day 1 where I wanted to chew my fingers off given my hunger level, my body quickly adjusted that evening and the balance of the 2 days for the 3-Day Refresh. By the end of the 3 days I was feeling strong, healthy and full of energy. I did not have any issues with energy level so I was bold and completed Body Beast BULK workouts on Days 2 and 3, which many of you know are heavy weight lifting routines for muscle mass growth. My weights or reps did not suffer. I was surprised by this. Also, Julia did not have any issues with feeling hungry during the 3 days or energy level in her workouts.
So, final results?
Mike: Lost 5 pounds and 2 inches off waist
Julia: Lost 3 pounds and 1.5 inches off waist
These are amazing results for 3 days, done in a healthy, safe and controlled manner!
I became noticeably leaner and my muscle mass is more prevalent with more definition. And, just look at Julia's post-Refresh results with more defined arms and abs… More impressive given that she gave birth to two kids now ages 1 and 3!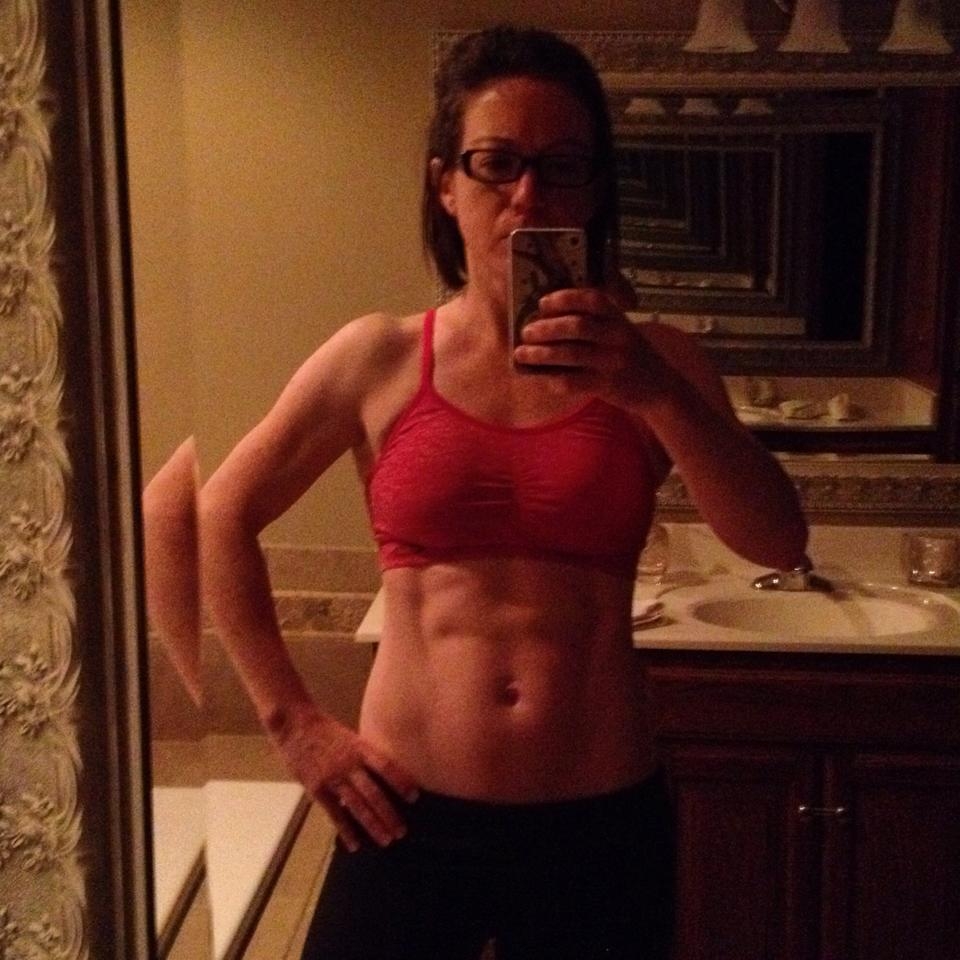 The good news?
The next days after the 3-Day Refresh the weight loss and results are still holding and even continuing after some graduation meals and snacks. Ha. We both lost another pound on Day 4 after the Refresh so something appears to be working! We also expect to drive further results with continued focus on Shakeology and our workout schedules. Other members in our Team test group lost from 3 – 11 pounds in 3 days and 1 – 3 inches off waist. Impressive. This is something that can even be done once a month or quarter for results.
3-Day Refresh Review – Take Action
So, the 3-Day Refresh is Beachbody's first ever, 3-day clean eating program. It's a simple and convenient 3-day program that offers quick weight loss, a clean break from poor eating habits and gets you started on the path to better nutrition. Get ready to lose weight, and feel cleaner, lighter and healthier in 3 short days! The 3-Day Refresh Challenge Pack Promotion is now available with $70 in savings including month supply of Shakeology and $2 shipping! This month only. What do you have to lose, other than a few pounds fast? Let's GO!

I hope you enjoyed the 3-Day Refresh Review and I look forward to hearing more about YOUR results!!
The following two tabs change content below.
Premiere 5 Star Diamond Independent Beachbody Coach, CEO and Founder of TEAM RAGE, Mike Nowak Fitness, HowDoIGetRipped.com and How Do I Get Ripped, LLC. You are about to learn how I went from out-of-shape busy dad with significant travel, 2 kids and a wife to losing 20 pounds, 16% body fat and 7" off my waist while getting paid more income from home than my Ph.D. in Science & Engineering. Retired my Ph.D. career to focus on FAMILY & FITNESS!
Latest posts by Mike Nowak (see all)
Comments